Information on Videos and TV Broadcasts
New Caledonia
Scenic Video of natural landscapes from New Caledonia, with Franck Pourcel arrangements as background music from his "MORE FROM THE MAESTRO" recording.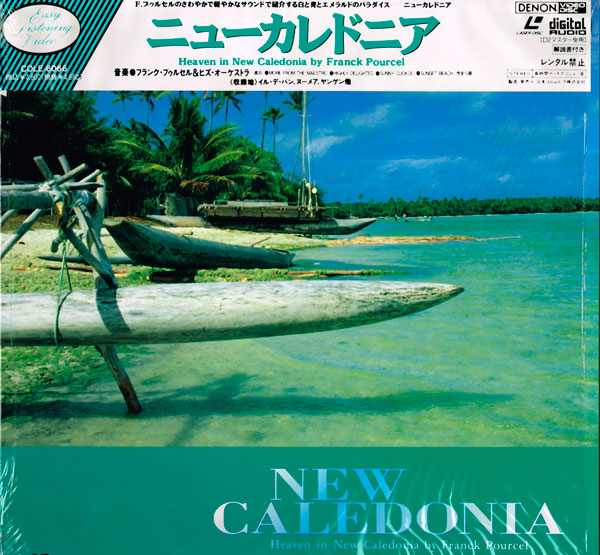 Release Information:
Music arrangements: Franck Pourcel and his Orchestra.
NTSC Color, CLV Stereo, Digital Audio
© 1993 Nippon Columbia Co. Ltd. - Made in Jaan
COLE-6066, For Rental
Running Time: Approx. 37 minutes.


Track Listing:
MORE FROM THE MAESTRO

(Lars Holmen / Arr. Franck Pourcel)

HIGHLY DELIGHTED

(Norman Candler / Arr. Franck Pourcel)

SUNNY CUCK00

(Sammy Burdson / Arr. Franck Pourcel)

SUMMER TIDE

(John Fiddy / Arr. Franck Pourcel)

SUNSET BEACH

(Lars Holmen / Arr. Franck Pourcel)

PASSING DREAMS

(Barry Ryder / Arr. Franck Pourcel)

TRINIDAD SUMMER

(Tony Tape / Arr. Franck Pourcel)

LETTER OF LOVE

(Franck Pourcel / Arr. Franck Pourcel)

BE MY LOVE AGAIN

(Heinrich B.Wogner / Arr. Franck Pourcel)

INTERMEZZO FOR DEBBIE

(John Fiddy / Arr. Franck Pourcel)

JONATHAN

(John Fiddy / Arr. Franck Pourcel)

LITTLE MISS PRU

(John Fiddy / Arr. Franck Pourcel)

MAY WE INTRODUCE

(Jean Claude Madonne / Arr. Franck Pourcel)
FRANCK POURCEL (MUSIC)
Franck Pourcel is France's world-class easy listening master. Born in Marseille in 1913.
He began learning the violin at the age of seven, and at the age of eight he got the job of a music hall and cinema exclusive violinist.
For eight years from 1942, he traveled around the world as an accompaniment to the chanson singer Lucienne Boyer, absorbing his extensive musical knowledge.
In '52, when his contract with her ended, he finally started to form his own orchestra.
Then, the long-awaited Franck Pourcel Orchestra was established by gathering top classical musicians from the Paris Conservatory and the Opera House.
Since then, he has released numerous albums with orthodox performances that add the good parts of classical music, centering on the charm of his strings. He has come to Japan several times and has become quite familiar in Japan.
He had an immeasurable influence on young people, such as Paul Muariat, being him a member of his orchestra for a while.
He is still active and always a leader in this genre.
FROM NEW CALEDONIA MAP

Koumac
Koumac, located in the northern part of Grande Terre Island, New Caledonia, is located about 300 km from Noumea, and unlike the southern part, nature such as rocks and trees is left intact. You can also fly from Noumea.
Noumea
Noumea is the capital of New Caledonia. The population is about 70,000. More than half are Europeans, but we often see Melanesian women walking around the city in national costumes. Noumea is a fancy city in a nutshell. The white French-style building shines well in the strong tropical sunlight, reminiscent of Southern France. The taste of France in the South Pacific. Amedée Lighthouse
In the clear emerald green sea, surrounded by short South Sea plants, a white lighthouse stands as if it were a bridge between the blue sky and the sea. Amedée is a small island 22km south of Noumea, less than an hour by boat. The 56m-high lighthouse, which appeared calmly in the open sea of ​​the South Pacific Ocean, was designed by the order of Napoleon III. Amedée Island is a wonderful beach covered with pure white powder sand that is as white as the lighthouse.
Hienghene
A popular resort with the beauty of the sea and the beauty of palm trees. It is located on the east coast 392 km northwest of Noumea. The famous place is the chicken rock that rises at the mouth of the Waime River. You will be amazed at the wonders of nature with a huge rock shaped like a chicken sitting down. Ile Des Pins
Ildyapan, which the Melanesians called the "jewel of the sea." The whiteness of the sand and the beauty of the color of the sea stand out among the islands of New Caledonia. Ile Des Pins is the most popular island for tour tourists, with a day trip from Noumea. The gently curved Bay of Canumera boasts unparalleled beauty in New Caledonia and is also famous as an ideal beach.