Information on Videos and TV Broadcasts
Franck Pourcel - L'Inimitable DVD
This is the first DVD of Franck Pourcel with clips mostly from TV broadcasts (available at INA repository).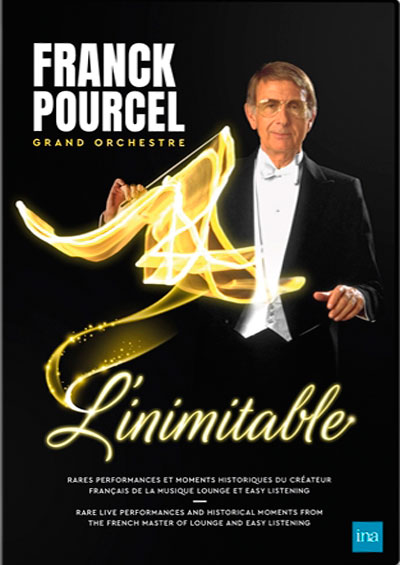 Release Information:
DVD description: Franck Pourcel is considered all over the world as the creator of background music. He has recorded over 2,000 titles, varieties and classics, in the famous Love, Dance and Violins and Pages series with his inimitable style. For the first time this DVD tells us about Franck's musical world in pictures.
Conductor: Franck Pourcel
Video: Color and Black/White
Running Time: 165 minutes.


Track Listing:
In a Nostalgia Mood/Tweedle Dee

I Love You

Blue Tango

Mon coeur est un violon

Petite fleur

Le cygne

Tous les bateaux, tous les oiseaux

What's New Pussy Cat

Et pourtant

Avec

Le temps

Il faut savoir

Marche militaire

La joie d'aimer

Eleonor Rigby

Franck Pourcel au violon Noces Bretonnes

Marchin violins (Nice majorettes)

Badinerie

Show avec Poiret et Serrault

La chanson de Lara

Le néon

Mouvement perpétuel

Concerto d'Aranjuez

Danse des clowns

St Nicolas

Festival de San Remo

Abacachi

Hey Jude

Yesterday

Let it Be

The Ballad of Bonnie and Clyde

Opération tonnerre (Thunderball)

C'est magnifique

El Gavilan

Bridge over Troubled Water

La danza

Le lac de Côme

L'important c'est la rose

Les cerisiers sont blancs

The Man of La Mancha

Anonimo Veneziano

Days of Pearly Spencer

Chall ha Dichall

Cry Me a River

Lay All your Love on Me