French Music Hall - Moscow 1967
thanks to Dmitry Zhoukov
This is a rare program where Olympia music-hall in France prepared different shows where they presented young singers and well know artists, acrobats, and different entertainers. But music was is main thing in this show. Bruno Coquatrix was legendary promoter and his music-hall was look as stars factory: Jacques Brel, Charles Aznavour, Salvatore Adamo, Luis Escudero, Mireile Mathieu. These and other singers first time born as stars on stage of Olympia. But sometimes Coquatrix lose in these shows because the taste of the Parisian public were very peculiar. For example, The Beatles concerts at "Olympia" brought a loss to him. He even asked Edith Piaf to perform in a series of concerts, when theatre was on the verge of closing.


French-Soviet relation in political field was especially strong when after II World War the president of France was voted general Charles de Gaulle. The policy of rapprochement between France and the USSR against the increasing influence of the United States was also beneficial to both countries. Especially after victory in war, which was won with efforts of USSR, in France and Italy were many people who believed in the ideals of communism. Of course, they probably did not quite understand what communism is in reality and what Soviet power gave to people, but they wanted to believe that it was better than wild capitalism. And when Goskoncert offered to make tour in our country, artists cannot to miss this opportunity and met new audience. During the life of Stalin until his death in 1953, the USSR was a closed country, where foreign artists did not perform. Only in 1956 foreign artists, mainly classical musicians and orchestras began to invite. Not all tours of French artists were sponsored by the French government, but only by large collectives like troupe of Parisian Opera, National orchestra of Radio and TV and separated classical pianists, organists, violinists, conductors.


The Soviet Concert agency (Gosconcert) organizing the tours could not pay much for performances, but can provide all need - hotels, cars, buses, tickets for trains and air planes, excursions in museums of different cities, tickets on concerts and performances in famous theaters (Bolshoi, for example), circus. Usually tours were organized in big cities like Moscow, Leningrad and the capitals of the republics of the USSR - Georgia, Azerbaijan, Armenia, Ukraine, Belarus, Estonia, Latvia, Lithuania, Uzbekistan. Thus, artist who is interested in trip in USSR could see life not only Muscovites. I collect memories by interpreters and in rare cases I can say that artists did not want to return to the USSR again. One solist ballet of French opera even wanted to live and work here! But tours in the future were not always possible. French government sponsored popular light music artists in exceptional cases, and often they themselves were forced to seek funding in order to pay their musicians and bring sound equipment.


Olympia music hall had permanent sponsors and you can see their ads in this booklet. Surprisingly that many of these ads translated to Russian as this not had sens to ordinary people in Soviet Union. I guess this booklet was addressed first to foreign spectator in Moscow (diplomats, journalists and tourists), and probably few copies can be provided for promotion of concerts in Moscow media although it was not required. All media received information from official channels of Ministry culture, Gosconcert or concert halls. In Soviet newspapers had not musical critics, but in all found articles reporters wrote about Mireille Mathieu vocal talent and her amazing career. Paul Mauriat was not like a star then, but his talent was also noted. Sadly "Love is blue" by Paul Mauriat was just released in April 1967 in France was not yet a hit.


Because French music hall tour in USSR had not commercial success and only act of friendship, it become unique. Bruno Coquatrix was also sponsored by French government as can read in introduction, but only one time. 50th anniversary of October Revolution passed in 1967 and French government had not good reason to support him for new tour.


Thanks to Dmitry Zhoukov for sharing this program with us and with the information!


Mireille Mathieu performed in these shows. Other performers were Michel Delpech, Trio "Les Fizz" (Danielle Licari, Jackie Castan and Pierrette Bargoin), Jacques Perrot, Les ballets d'Arthur Plasschaert de l'Olympia and others.

Paul Mauriat arranged and conducted his Grand Orchestra for all the performers, while Mireille Mathieu was the main act for the second part of the show.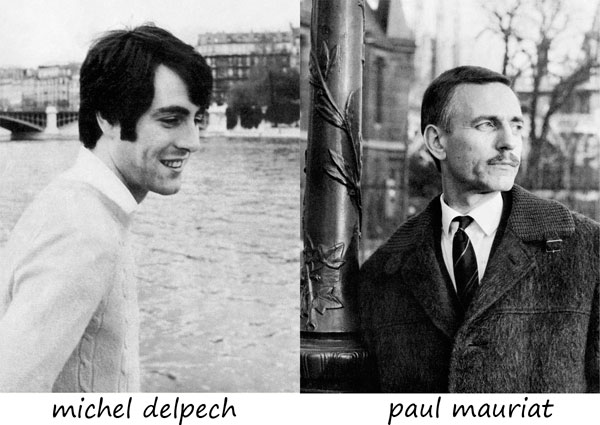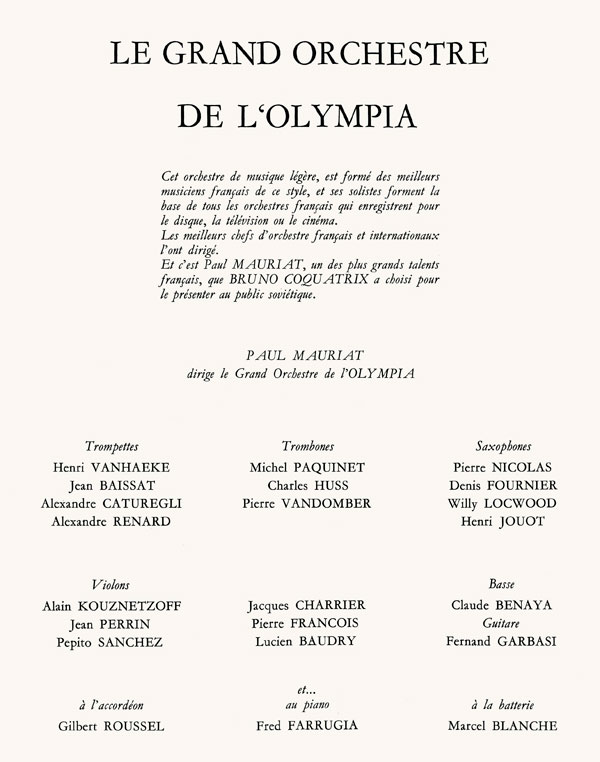 Program :


First Part:
Paul Mauriat et orchestre de l'Olympia

:
Chansons de France (medley):

"A Paris"

,

"Grands boulevards "

,

"Que c'est bon"

, and other songs of Yves Montand who was first French pop singer toured in USSR

Paul Mauriat et orchestre de l'Olympia

:
Le mouvement perpetuel (Paganini)

Trio "Les Fizz" (Danielle Licari, Jackie Castan and Pierrette Bargoin) & Paul Mauriat et orchestre de l'Olympia

:
Songs from film "Les parapluies de Cherbourg"
Jacques Perrot (noise imitator) & Paul Mauriat et orchestre de l'Olympia
Les ballets d'Arthur Plasschaert & Paul Mauriat et orchestre de l'Olympia


Jazz Avenue

Take Five

Improvisation

Michel Delpech & Paul Mauriat et orchestre de l'Olympia

:


La Mesalliance

Becassine

Il Faut Regarder Les Etoiles

Chez Laurette

Je Me Sens Tout Petit




Second Part:




Mireille Mathieu & Paul Mauriat et orchestre de l'Olympia, Gilbert Roussel (accordeon), vocal trio "Les Fizz"

:

Viens dans ma rue (P.Mauriat – A.Pascal)

C'est Ton Nom

Le Funambule

Geant (P.Mauriat – A.Pascal)

Celui Que J'Aime

En Ecoutant Mon Coeur chanter

Ce soir ils vont s'aimer

Qu'elle est belle

Mon Credo (P.Mauriat – A.Pascal)

Paris En Colere

Ma Pomme

Quand tu t'en iras

Pour un coeur sans amour

Nous on s'aimera

Adieu a la nuit

Quand on revient (P.Mauriat – A.Pascal)

Pourquoi, mon amour? (P.Mauriat – A.Pascal)

Quand fera-t-il jour camarade? (P.Mauriat – G.Bonheur) - first time new song was performed in Leningrad

Au-devant de la vie (Песня о встречном) from film "Counterplan" - Russian song in French

Je suis la (Не спеши) - Russian song in French
Members of the Paul Mauriat Grand Orchestre:
CONDUCTOR: Paul Mauriat
TRUMPETS: Henri Yanhaeke, Jean Baissat, Alexandre Caturegli & Alexandre Renard
TROMBONES: Michel Paquinet, Charles Huss & Pierre Vandomber
SAXOPHONES: Pierre Nicolas, Denis Fournier, William Lockwood & Henri Jouot
VIOLINS: Alain Kouznetzoff, Jean Perrin, Pepito Sanchez, Jacques Charrier, Pierre François, Lucien Baudry & Basse Claude Benaya
GUITAR: Fernand Garbasi
ACCORDEON: Gilbert Roussel
PIANO: Fred Farrugia
DRUMS: Marcel Blanche