Evening at Pops
1985 - Pops Celebrates 100 - At the Lincoln Memorial
A Special "Evening at Pops" program at the Lincoln Memorial with a public audience from 1985, for the Pops celebration with John Williams conducting patriotic American themes and with John Denver as the guest and also with the Pops Centennial Chorus.


~ Thanks to the help of my friend Miguel Andrade for supplying the information.

Release Information:
Orchestra conductor: John Williams.
Guest: John Denver
Chorus: The Pops Centennial Chorus, Weldon Norris - Director
07/14/1985. Broadcasted by PBS.
Running Time: 55 minutes.


Track Listing:
John Williams conducts the Boston Pops:
- Introduction
- Olympic Fanfare and Theme
- America The Beautiful
- The Cowboys Overture and Documentary
With John Denver:
- America, The Dream Goes On
- Country Roads

John Williams conducts the Boston Pops:
- Reach Out: A Pops Sing Along
- The Magic of Walt Disney
- Saint Louis Blues March
- The Battle Hymn of the Republic
- The Stars and Stripes Forever
Opening Credits


John Williams Credits


Boston Pops at the Lincoln Memorial


Pops Brass section


John Williams conducts the Boston Pops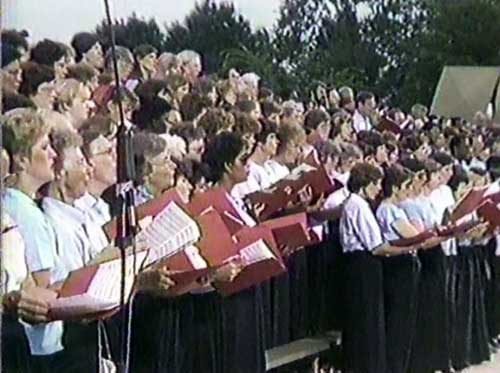 The Pops Centennial Chorus


John Williams conducting


John Denver


On the Cello: Martha Babcock


People gathering at the Lincoln Memorial


Closing Credits