Evening at Pops
2004 - Kristin Chenoweth
Program from 2004 with Keith Lockhart conducting and with Kristin Chenoweth singing and also with Rob Marshall.
Show Information:
This special episode of EVENING AT POPS takes us from the silver screen of Hollywood to the fabled stages of the Great White Way.

Broadway sensation Kristin Chenoweth, who starred in the smash hit musical Wicked, joins conductor Keith Lockhart and the Boston Pops Orchestra to pay tribute to movie musicals that became Broadway musicals.

Then, Keith welcomes his longtime friend and college classmate Rob Marshall, the Academy Award-nominated director of the multi-Oscar winning screen musical Chicago, who is on-hand to discuss some of those popular films that went on to become Broadway musicals.


Release Information:
Orchestra conductor: Keith Lockhart.
Guests: Kristin Chenoweth and Rob Marshall.
August 1st, 2004 (Season 35, Episode 5).


Track Listing:
1. Presentation
2. Boston Pops Orchestra - Hot Honey Rag from Chicago (Kander / Ebb)
3. Lockhart talks to Rob Marshall
4. Kristin Chenoweth and Boston Pops: Let Yourself Go from Follow the Fleet (Irving Berlin)
5. Boston Pops Orchestra - Over the Rainbow from The Wizard of Oz (Arlen/Harburg)
6. Boston Pops Orchestra - Waltz in Swing Time from Swing Time (Jerome Kern)
7. Kristin Chenoweth and Keith Lockhart on piano: Bill from Showboat (Kern/Hammerstein)
8. Kristin Chenoweth and Boston Pops: Why Was I born from Sweet Adeleine (Kern/Hammerstein)
9. Kristin Chenoweth and Boston Pops: Going to the Dance with You (Richard Dworsky)
10. Kristin Chenoweth and Boston Pops: Apartment 14G (Tesori/Scanlon)
11. Boston Pops Orchestra: Singin' in the Rain (Brown/Fred Salinger) Arr. Courage
12. Kristin Chenoweth and Boston Pops: If from Two on the Aisle (Styne/Comden/Green)
13. Kristin Chenoweth and Boston Pops: Glitter and Be Gay from Candide (Bernstein/Wilbur)
14. Kristin Chenoweth and Boston Pops: For Good from Wicked (Schwartz/Brohn)
15. Boston Pops Orchestra: No Business Like Show Business (Berlin) Arr. Besterman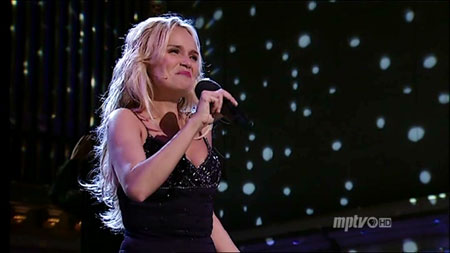 Kristin Chenoweth


Kristin Chenoweth and Keith Lockhart