CADET ROUSELLE
1972 - Les Charlots
Cadet Rouselle was the follow-up of the Palmares des Chansons, again with conduction and arrangement of Raymond Lefevre. Special guest are Les Charlots, but the main course was the presence of foreign artists such as Gigliola Cinquetti, Vicky Leandros and Rita Pavone, plus Marcel Sardou.
Release Information:
Orchestra Conductor: Raymond Lefevre.
Paris, May 30, 1972. Rebroadcasted by TV Melody.
Running Time: 1 hour and 10 minutes.


Track Listing:
Sequence 1
- Gigliola Cinquetti - Parti sans adresse
- Georges Ulmer - Pigalle
- Michel Sardou - Les bals populaires
- Martine Clémenceau - Plaisir d'amour
- Vicky Leandros - Après toi
- Michel Sardou - Bonsoir Clara
- Marie Roos - L'animal en blue jeans
Sequence 2
- Rita Pavone - Mon coeur balance entre la France et l'Italie
- Gigliola Cinquetti - Je suis timide / Un Coin de Terre, Un Olivier
- Gianni Nazzaro - Non Voglio Innamorarmi Mai
- Rita Pavone - Verte colline
- Nestor et David Michel - (sketche)

Sequence 3
- Les Charlots - Paulette, la reine des Paupiettes
- Les Charlots - Cet été c'était toi
- Les Charlots - Cach' ton piano
- Les Charlots - Merci patron
- Les Charlots - Sketches

Gigliola Cinquetti starts the program


Gigliola Cinquetti - Parti sans adresse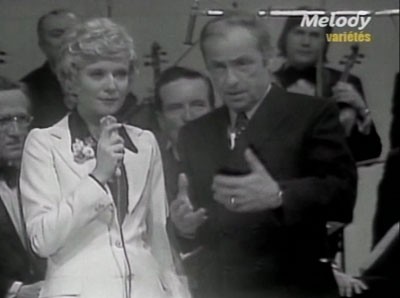 Jacqueline Duforest and Guy Lux


Georges Ulmer - Pigalle


Michel Sardou - Les bals populaires


Martine Clémenceau - Plaisir d'amour


Vicky Leandros - Après toi


Marie Roos - L'animal en blue jeans


Rita Pavone - Mon coeur balance entre la France et l'Italie


Gigliola Cinquetti - Je suis timide


Gigliola Cinquetti - Un Coin de Terre, Un Olivier


Gianni Nazzaro - Non Voglio Innamorarmi Mai


Rita Pavone - Verte colline


Les Charlots